Landscape Design
Landscape Design / Planting
We provide landscape design and build services for our valued customers, creating distinctive landscape environments that are unique, attractive and functional. We believe that every project and customer deserves our personal attention, as well as a personal commitment to the landscape design, construction and management. We work with our customers from the concept phase to the design process, into the building phase and through the completion of the project.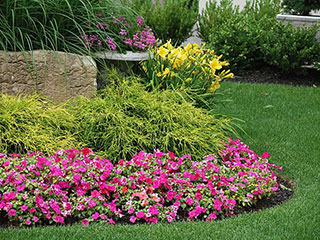 With our proven expertise, property owners need not look further to find the most reliable landscaping company when it comes to landscape design and installation. Cloverland Landscape is New Jersey's top landscape design and build firm, creating stunning outdoor landscape features for residential and commercial properties. Across the state, you can find samples of our handiwork – exceptionally beautiful and functional landscape features that merit awe and inspiration among onlookers. If you wish to experience for yourself our brand of landscaping excellence, then call us today. We will be glad to send a staff to your location for an initial assessment of your design requirements.


Smart Landscape Design: Key to a Stunning Outdoors
A truly exceptional landscape doesn't happen by accident. Every jaw-dropping outdoors is anchored in a well-drafted design that only experienced landscapers can render. Accordingly, we guarantee you a smart landscape design that is based on sensible industry standards and design principles. For example, we will make sure that the design features that we'll include in our plan complement the theme of the existing structures in a property. We will also factor in your design requests and make it a point to have your personality show through your landscape. Our designers will also consider the safety of you and your family or guests, as well as ensure that the landscape has all your needed functionalities.


Expert Landscape Installation with Our Help
Together with the design is the actual landscape installation. Fortunately, we have in our staff some of the most skilled landscapers in the industry. Our people underwent rigorous training and hands-on experience in building various landscape amenities. They are fully certified by industry organizations, so you're guaranteed to be working only with professionals.

We also use only high quality materials supplied by partners who are considered the most reliable names in landscaping. Our landscaping tools and equipment are likewise complete and appropriate, allowing us to perform landscape installation tasks with ease. All in all, we have the manpower, experience, and logistics capabilities to guarantee you a landscape that has everything that you need.


New Jersey's Best Landscape Design & Installation Company
Put your full trust only in one of the top landscape design and installation companies operating in New Jersey – Cloverland Landscape. With rates that are highly competitive, a pool of skilled landscape designers and installers, and access to the best landscaping materials, we can definitely provide you with intelligently designed and skillfully installed landscape features. Call (201) 342-1762 today for more information on our offered services. We cater to clients in Passaic, Englewood, Lyndhurst, Hackensack, and other NJ areas.