Landscape & Hardscape Services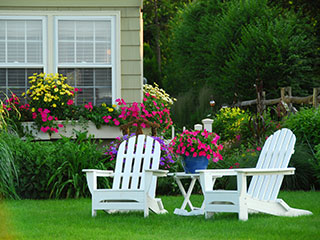 Cloverland Landscape Co. Inc. is a leading, full-service landscape company. From our base in Hackensack, we cater to clients in Garfield, Saddle Brook, and Englewood. With over 40 years of experience in the industry, word of our expertise has spread to the neighboring areas of Paterson, Passaic, and Clifton, and we have successfully completed softscape and hardscape installations for many clients in Bloomfield, Lyndhurst, Paramus, Wayne as well as the surrounding areas. We offer a wide variety of services including:


Landscape Design
We provide excellent landscape design services for our clients, creating distinctive and functional landscape environments that are attractive and sustainable all at once. Our company believes that each project and client deserves customized solutions as well as personal attention. We are 100% committed to providing the best landscape design solutions. The team works closely with our clients from the conceptualization phase to the design and planning process. Our designers are also involved in the installation and completion phases, ensuring that all the features and installations are as per the plans approved by you. Read More About Landscape Design »


Landscape Installation
Construction of your landscaping is the phase that comes right after you have approved the entire design. We provide outstanding landscape design and installation solutions of different softscaping and hardscaping elements. You can expect tailored solutions for everything ranging from turf, trees and shrubs, turf and the more permanent features such as patios and walkways. Drainage & irrigation system installations are part and parcel of these projects. We can also help with landscape upgrade needs and cater to both, commercial and residential clients. Read More About Landscape Installation »


Pavers
Pavers are one of the most widely used products in landscaping projects. They are versatile, easy to install and maintain and durable too. When installed properly using the best materials and installation techniques, pavers lend charm and sophistication to your landscape that other materials such as concrete and asphalt, fail to do. We have the expertise, experience, tools, and resources to offer the best solutions at very reasonable pricing. We work closely with you to provide paver designs and plans that can complement styles such as traditional, contemporary, Mediterranean and European. Our skilled paver installers handle every job expertly so you get great looking outdoor spaces. Read More About Pavers »


Retaining Walls
Retaining walls are an excellent addition to your property. They support exposed rock and soil and prevent mudslides and erosion. These are specially engineered walls that can also be used to demarcate various areas of your property. We can also design and build retaining walls with planters and inbuilt seating to improve the functionality of these features. Well-designed retaining walls can easily become the focal point in your property and improve the aesthetics of your landscaping. Read More About Retaining Walls »


Outdoor Living Areas
If you want to extend your home's living spaces, adding outdoor living areas is the best way to do it. We have been in this industry for decades and offer excellent outdoor living design and installation services. Our experts can plan and build patios, decks, pergolas, gazebos as well as outdoor kitchens. In the designing and planning of these spaces, the focus is always on functionality and aesthetics. Use of exterior-grade materials ensures the longevity and appearance of the features. When designing these spaces, care is taken to ensure that the styling and materials used complement the look of your home. Read More About Outdoor Living Areas »


Irrigation
As a licensed irrigation contractor, with over 40years' experience in the industry, we design, install as well as maintain customized irrigation systems for residential, commercial and condominium sites. We use high-grade irrigation products in our work, ensuring the longevity and resilience of the systems. It also means minimal maintenance is required to ensure these systems stay in a good condition at all times. Our experts plan the installation well, keeping in view the particular needs of your planting and landscape. Read More About Irrigation »


Trees & Plantings
Adding new shrubs, plants, flowers, and trees to your landscaping is a great way to introduce color, liveliness, and texture to your outdoor spaces. Replacing overgrown/ old trees is a good way to remove the obstructions and restore your landscape's balance and functionality. We cater to both residential as well as commercial clients, take their specific needs into account and provide customized solutions. The plantings and trees will be sourced from the best local nurseries, so you don't have to worry about plant diseases, weeds etc. This helps you maintain a healthy and attractive landscape that adds to the curb appeal of your property. Read More About Trees & Plantings »


Residential Maintenance
Whether you have a compact landscape or an expansive one, it's best to entrust all the different residential maintenance jobs to experts like us. We have over 40 years of experience in the field and follow time-tested and proven residential maintenance techniques in softscape and hardscape maintenance. We have all the latest equipment and tools that allow us to perform our jobs expertly. As part of these services, we handle lawn mowing, trimming and pruning of plants, trees, and shrubs, maintenance of plantings, clean-ups, mulching and more. Read More About Residential Maintenance »


Commercial Maintenance
The commercial space is extremely competitive today. Maintaining the outdoor areas of the property is one of the best ways for commercial property owners to attract clients and customers and maintain their reputation. We provide outstanding commercial maintenance solutions to restaurants, condominiums, apartment complexes, offices, and other similar establishments. Our experts work closely with you to understand your requirements and budget and offer services to meet those needs. We use the best equipment in the work, making sure that all the areas of your property are beautifully maintained all times. Read More About Commercial Maintenance »

Hire Expert Landscapers

If you are looking for a company that will provide you customized landscape services, personal attention, and excellent value for money, Cloverland Landscape Co. Inc. is the company to call. Feel free to call us at 201-342-1762 to discuss you project details with our expert team. Alternatively, you can write to us via this Contact Us form and we will respond quickly. When you engage our services, you are assured of the best solutions at the best pricing.