Landscape Installation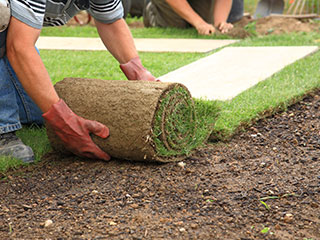 Construction of your home's landscaping is the next step once you have approved the design. We provide excellent landscape design services and our experts then handle installation of the various softscaping and hardscaping features. Cloverland Landscape Co. Inc. is a leading, full-service landscape company. From our base Hackensack, we cater to clients in Garfield, Saddle Brook, and Englewood.

With over 40 years of experience in the industry, word of our expertise has spread to the neighboring areas of Paterson, Passaic, and Clifton as well. We have successfully completed softscape and hardscape installations for many clients in Bloomfield, Lyndhurst, Paramus, Wayne as well as the surrounding areas.


Range of Landscape Installation Services
You can expect tailored solutions related to trees, shrubs, turf as well as more permanent and high-value installations such as patios and walkways. Our expert, professional team, skillfully and artfully helps you avoid expensive yard mistakes, enrich your connection with nature, and give you spaces where you can enjoy leisurely moments. The range of residential and commercial landscape installation services we offer include:


Planting and Trees Installation
Flowerbed installations and improvements
Sod/seeded lawn installation
Special needs and specialty gardens
Plantings for color and fragrance
Shrubs
Hedges
Annuals and perennials

Yard installation is more than just planting a few trees and shrubs. All these plantings will be installed after proper grading, leveling, and preparation of the soil. We also handle irrigation and drainage system installations as part of these projects. If you have an existing landscape and need new plants or trees added, we offer yard upgrade services too.


Hardscape Installation
Patios
Driveways, pathways, and walkways
Retaining walls, boundary walls, decorative walls
Planters and steps
Pergolas, fences, and arbors
Outdoor kitchens
Patios decks
Fire pits, water features
Pavers
Customized Landscape Installation Solutions
There are a number of aspects that set us apart from our competitors:


We understand the importance of doing the job right the first time. It's why we use proper planting and construction techniques and superior equipment.
We offer a wide variety of landscape installation services that cater to commercial and residential customers that really do care about the value and overall aesthetics of their properties.
Our company offers unparalleled quality, creative landscaping solutions, and the best customer service.
When it comes to having any landscape or outdoor living areas installed, we strive to exceed your expectations and excel on every level.
From our first consultation and estimate to the end result, you are assured of 100% customer satisfaction.
Our talented personnel are quality-driven, highly trained and focused, ensuring high-quality landscapes and finishes.
Experienced on-site supervisors oversee all projects to ensure timely completion of the project.
The products we use guarantee the best quality results and we firmly stand by our craftsmanship, offering some of the best warranties in the industry.
Courteous communication continues to one of our main priorities.
Our team of professional licensed, certified and fully insured landscape installers will ensure you get the type of landscape you envisioned.

If you are looking for a company that will provide you customized landscape services, personal attention, and excellent value for money, Cloverland Landscape Co. Inc. is the company to call. Feel free to call us at 201-342-1762 or visit our office in Hackensack, to discuss your project details with our expert team. Alternatively, you can write to us via this Contact Us form and we will respond quickly.